When:
June 24, 2019 @ 9:00 am – June 28, 2019 @ 5:00 pm
2019-06-24T09:00:00+01:00
2019-06-28T17:00:00+01:00
Where:
NECA HOUSE
Hakeem Balogun St
Alausa, Ikeja
Nigeria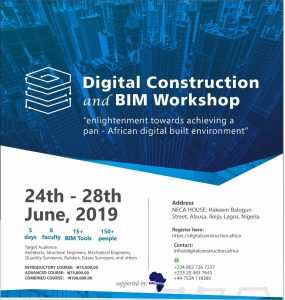 The architecture, engineering and construction (AEC) industry not only lags behind manufacturing, healthcare and banking when it comes to digital transformation, it is the second least digitised industry, only marginally better than Agriculture and Hunting. Fortunately, the situation is improving. The global AEC industry is in a state of flux and the opportunities are boundless as we witness seismic changes with new processes like building information modelling (BIM) linking up with existing systems like GIS, Offsite Construction and Virtual Reality.
Where do you start your digital transformation journey from? Which software should you invest in? What are the standards, tools or workflows required to move into the digital era while maintaining legacy systems? How do you carry your clients and project partners along?
The Digital Construction and BIM Workshop is taking place in Lagos from June 24 to 28, 2019. The workshop promises an extensive exploration of Building Information Modelling (Processes, Tools, Standards) and hands-on application to Construction projects.
Scholars and thought leaders including Dr. Zulfilkar Adamu of London South Bank University, Prof. Martins Tuuli of GIMPA, Ghana, Geoff Hodgson of Loughborough University, Mrs Kudirat Ayinla of Birmingham City University and many others would be facilitating various sessions during the workshop. The workshop also features a BIM Clinic scheduled for Day 4 and Day 5 where participants can benefit from instant feedback on ongoing or planned projects.
Seats are limited, ensure to register soon. Click here for details and registration.