When:
November 29, 2019 @ 9:00 am – 1:00 pm
2019-11-29T09:00:00+00:00
2019-11-29T13:00:00+00:00
Where:
Atlantic Computers
Opposite Accra High School
Kanda Highway Extension, North Ridge, Accra
Ghana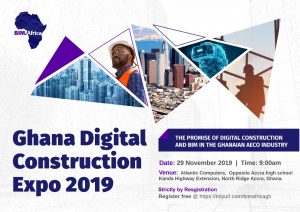 THE PROMISE OF DIGITAL CONSTRUCTION AND BIM IN THE GHANAIAN AECO INDUSTRY
Digital Construction and Building Information Modelling (BIM) has taken the global construction industry by storm as experienced in the US, Europe, Middle East and Asia. A key driver can be attributed to the increasing demand by governments and private sector organizations in the major economies across the globe to deliver increased efficiencies and productivity in the construction sector. However, inadequate awareness among stakeholders in most African countries is a major challenge and has led to the slow-pace or non-existent BIM adoption within the African continent.
The half-day event has been carefully crafted to facilitate discussions amongst Construction professional and stakeholders towards creating greater awareness and adoption of BIM within the Architecture, Engineering, Construction and Operations (AECO) industry in Ghana. The audience for the event would include Senior Representatives from the Public and Private Sectors, Regulatory and Professional Bodies, Construction and consultancy firm, Academia, and NGOs.
The event is organised in partnership with Atlantic Group, Ghana. Participation is strictly by registration. Register free here.