When:
October 6, 2022 – October 7, 2022
all-day
2022-10-06T00:00:00+02:00
2022-10-08T00:00:00+02:00
Where:
University of Pretoria, Pretoria, South Africa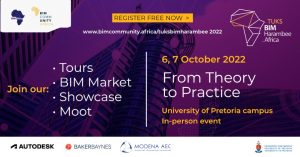 BIMHarambee is an initiative which brings BIM practitioners (experts, novices and students, professional bodies, corporates and public sector) from related industries to learn, share knowledge, promote and highlight BIM practices.
This year's event focuses on BIM: From theory to practice
How do we practically implement BIM? Where can we start? What do we need? How do we get more people and companies BIM compliant? What questions are we not asking?
The 2 day in-person event is made up of the following:
Thursday 6 October – a day of tours and demos
Friday 7 October – a day of learning and unconferences
REGISTRATION INFORMATION:  All activities are FREE to attend!
You need to register separately for each activity on the 6th of October – The only one you don't need to register for is the BIM Market if you've already registered for the tours.
On the 7th of October, please make sure you register for the Showcases and Moots.