When:
June 30, 2020 @ 7:00 am – 3:00 pm
2020-06-30T07:00:00+00:00
2020-06-30T15:00:00+00:00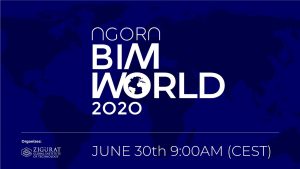 With BIM around the World.
Digitalization of the construction sector is a once in a generation opportunity to take advantage of the best practices, digital workflows, and technology skills to shift to a higher level of performance. And to succeed in this monumental task, we must build a global BIM ecosystem of shared knowledge and insights.
BIM implementation around the world: How are we advancing?
To gather the global BIM know-how, experience, and practices, Zigurat Global Institute of Technology launches an online tour around the world to discover the BIM implementation developments in different countries and geographic areas. Experts and visionaries in charge of local initiatives and benchmark organizations that shape the BIM practice of their region will present the current reality and the most noteworthy projects.
Sign up for the first online BIM event of such global dimensions and find out about the best practices around the world