When:
November 15, 2022 @ 1:00 pm – November 16, 2022 @ 4:00 pm
2022-11-15T13:00:00+01:00
2022-11-16T16:00:00+01:00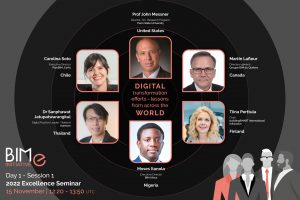 The BIMe Initiative Excellence Seminar 2022 is taking place over two days on 15 and 16 November 2022.
This virtual event attracts a large international audience of AEC industry professionals and academics. For many years BIMe Initiative has been at the forefront of game-changing research, propelling the acceleration of the digitalization of the built environment. BIMe Initiative will be sharing some of the incredible and pioneering research findings, together with the release of the newly updated BIM Dictionary.
Session One of the seminar features six esteemed international guests sharing their unique experiences. Speakers include Carolina Soto Ogueta , Executive Director Planbim_Corfo, Chile, Prof John Messner , Director, Computer Integrated Construction (CIC) Research Program Penn State University, USA, Martin Lafleur, Directeur general, Groupe BIM du Québec, Canada, Moses Itanola, Executive Director BIM Africa, Nigeria, Dr Sanphawat Jatupatwarangkul, Head of Standards at Thai BIM Association and Asia BIM Collaboration Group Committee, Thailand, and Tiina Perttula, Chair buildingSMART International and InfraBIM at Ramboll, Finland.
The seminar brings together a collective of international AEC industry professionals to discuss new digital ways of working to accelerate the pace of digital change across the global built environment. The event is held virtually and free to attend, spanning two days with talks from industry experts in South America, the Middle East, Australasia and Europe. This BIMe Initiative Excellence Seminar 2022 is for practitioners, researchers, and policymakers to learn, connect and take away valuable insight into transformational change from world leaders and future-thinkers.
📅 Check the programme and register now 👉  Visit for more details