When:
October 18, 2021 – October 22, 2021
all-day
2021-10-18T00:00:00+01:00
2021-10-23T00:00:00+01:00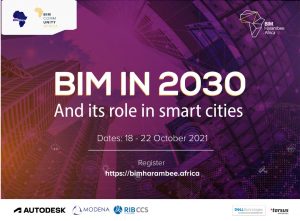 This year's event from 18 to 22 October focuses on BIM in 2030 and its role in Smart Cities.
Our presentations cover an introduction to Smart Cities, how to harness big data analytics and how to reduce rework through planning. We also tackle the role of 6D BIM, look at how BIM, GIS and digital twins feed into city information modelling and the new 3D of data-driven design.
We also have case studies that give insight on 10 years of BIM experience in Morocco and how BIM and GIS integrated in a 250sq km modelling project.
And then we have 2 learning sessions that explore BIM workflows for a medium size project and a French session on how Navisworks can enable savings on time and money.
Our 3 live Panel Discussions tackle the role of BIM in Smart Cities, how we can get existing buildings smart city ready and, most importantly, ask how ready we are for BIM in Africa by 2030.
It's an opportunity to see what our African brothers and sisters in BIM are doing, to gain knowledge and be inspired. And to participate in the conversations that are shaping BIM's role in Africa.