When:
April 23, 2020 @ 8:00 am – April 24, 2020 @ 5:00 pm
2020-04-23T08:00:00+00:00
2020-04-24T17:00:00+00:00
Where:
Cassablanca, Morocco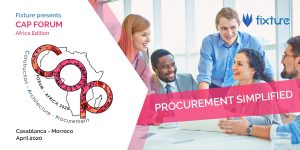 The construction sector is one of the major contributors to the African economy & one of its fastest-growing sectors. Morocco's construction industry is set to perform relatively well over the forecast- period (2020–2025), compared to the review period (2015–2019). The industry's growth over the forecast period will be driven by investment in infrastructure, energy and residential construction projects.
Construction activity in recent years has been driven by several factors, including purpose-built cities, industrial zones and rising demand for housing, but investment in public infrastructure, particularly transport, has been a primary engine.
This event is the ideal opportunity to get involved in Africa's booming construction industry to access major developers, architects & consultants from the region. CAP FORUM Africa 2020 is being organized by Fixture Global.
CAP FORUM is an exclusive platform that will focus on a range of topic areas from construction regulation, major projects & upcoming contracts to sustainable building & the latest construction technology.