When:
February 24, 2022 @ 5:00 pm – 6:00 pm
2022-02-24T17:00:00+01:00
2022-02-24T18:00:00+01:00
Where:
https://www.eventbrite.com/e/86135624973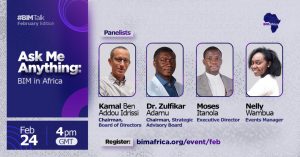 Building Information Modelling (BIM) is an innovative process and technology that is transforming the way buildings and city infrastructure are designed, analyzed, constructed, and managed. Despite the vast potential of BIM, there is a slow uptake across the African built industry.
During this #BIMTalk session, a panel comprising of the BIM Africa leadership team will entertain questions on the state of BIM across the continent, current engagements and activities, constraints, and the prospects of the industry in adopting BIM. The panel is composed of Kamal Ben Addou Idrissi, Dr Zulfikar Adamu, Moses Itanola, and moderated by Nelly Wambua.
Kamal is the Chairman of the Board of Directors for BIM Africa. He is also the Managing Director of ETAFAT, a leading engineering consulting firm in Casablanca, Morroco. Alongside providing the high-level policy direction for BIM Africa, he leads various technology development projects by ETAFAT, as part of the ambitious investment policy to make ETAFAT accede to the rank of a national leader.
Dr Adamu is the Chairman of the Strategic Advisory Board for BIM Africa. He is an Associate Professor of Strategic IT in Construction at the London South Bank University, UK. His expertise revolves around leveraging computing and data-driven tools and processes to enable digital transformation in architecture, construction and engineering (AEC) industries.
Moses is the Executive Director at BIM Africa. He is also a Project Associate at Family Homes Funds Limited. He has participated in numerous design and construction projects and presented at conferences across various African countries.
Nelly is a Marketing and Event Manager at BIM Africa. In this role, she hosts numerous indigenous and foreign BIM professionals to share knowledge in their field, thus improving the African built industry. She is passionate about sustainability and new technologies in construction.
The BIM Africa #BIMTalk (February Edition) is a periodic learning-based virtual program. Join us on Thursday, February 24, 2022, at 4 pm GMT.