When:
March 24, 2022 @ 4:00 pm – 5:00 pm
2022-03-24T16:00:00+01:00
2022-03-24T17:00:00+01:00
Where:
https://twitter.com/i/spaces/1gqxvlqqWnpGB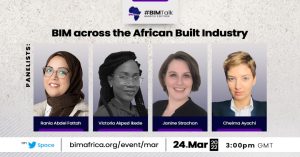 Building Information Modelling (BIM) involves linking people, technology, and processes to improve building construction and infrastructure development outcomes. BIM has progressed at different speeds in different countries. Despite a general slow uptake, intriguing deployments are being experienced across Africa. Join our all-women panel of BIM experts on Twitter Spaces to learn from their experiences with BIM deployments across the African built environment.
This #BIMTalk session will be held on Twitter Spaces and features a panel comprising Rania Abdel Fattah, Victoria Ikede, Janine Strachan and Cheima Ayachi. The all-women panel is a part of our commemoration of International Women's Day (IWD) for 2022. The panel will share their experiences with BIM deployments across the continent and approaches to improve the industry.
Rania Abdel Fattah has been a BIM Director at Cosmos Engineers and Consultants and an academic advisor of the BIM training programs for undergraduate and postgraduate engineers since 2018. With over 15 years of expertise as a BIM specialist, she has worked on large-scale initiatives in the Middle East. She has directed teams to implement BIM strategy and standardization in several projects in Egypt and the Middle East. During her journey as a BIM expert, she was honoured with the "Appreciation Award" at the Governmental Digital Transformation Forum – 2021 and the "Award of Excellence 2019" BIM Implementation Case Study – November 2019. She has participated in educational initiatives, including several universities, delivering many keynote speeches, lectures, and workshops towards a successful BIM implementation in the AEC Industry.
Victoria Akpezi Ikede is a BIM Researcher at KobiLabs. She has served as the BIM Manager and Assistant ISO 9001:2015 Quality Management Representative (QMR) at ATO Architects Limited. She played a significant role in BIM Implementation and Business Process Re-engineering for the legacy firm. Earning her Master's Degree from the Sheffield School of Architecture with Distinction, Victoria gained significant teaching and research experience in BIM, Virtual Reality, Computational Design, Photogrammetry, Digital Fabrication, Rapid prototyping, and Energy Simulations. She is a recipient of the 2016 NDDC Scholarship Award for Postgraduate Studies. Victoria also received the 2021 Erasmus Mundus Scholarship Award for Masters In Building Information Modelling at the Prestigious Politecnico di Milano and the University of Ljubljana, where she is studying currently. She was a panellist at the 2019 West African Digital Conference and is an active member of the BIM Africa community.
Janine Strachan is a Senior BIM Specialist at Worley. She specializes in identifying best practices and methodologies for integrating BIM into everyday workflows. Her role at Worley includes project-based support, creating Revit templates and family libraries based on client standards and requirements and overseeing the implementation of BIM workflows on projects. She completed her BTech in Architectural Technology at the Tshwane University of Technology in 2011. She also holds a Diploma in Interior Design from the Interior Design Institute. Janine started her career in an architectural office as an assistant architectural technologist in 2012, working on high-end residential developments. She then transitioned into a position as a graphic designer at Modena Design Centres in 2015. After two months at Modena, She joined the AEC team as an Applications Engineer. In 2016 She was outsourced to DSA Architects as a BIM Consultant, becoming a full-time employee the following year. In 2019, She was appointed as a Senior BIM Specialist at Worley.
Cheima Ayachi is currently a member of the working group for the African BIM Report 2022 under the BIM Africa Research and Development committee. She has a master's degree in Global BIM Management from the Zigurat Global Institute of Technology. Cheima also has a master's in GIS and Land Planning and a Bachelor's in Geomatics and Environment from the University of Tunis El Manar, Tunisia. She has experience in BIM implementation and business development.
The BIM Africa #BIMTalk (March Edition) is a periodic learning-based virtual program. Join us via Twitter Spaces on Thursday, March 24, 2022, at 3 pm GMT.