Amidst excitement and learnings, the West Africa Digital Construction 2019 ended excellently yesterday. The event held on 15th and 16th of October 2019. The audience experienced the showcase of digital technologies by Siemens, FARO, Canon, HP, Autodesk and others. Many insightful lectures were also delivered by industry experts and speakers.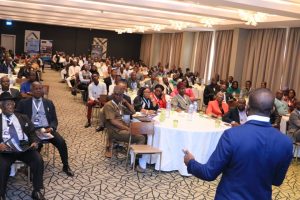 As part of the sessions, members of the leadership of BIM Africa anchored many sessions on BIM and Digital technologies in Construction. The conference was chaired by Dr Zulfikar Adamu – our Advisory Board Chairman.
Dr. Sa'id Alkali Kori presented on "BIM Implementation: Strategy and Execution Planning for Projects and Organisation".
Engr. Abubakar Lawal presented on "BIM for Infrastructure: Sustainable Infrastructure Design and Construction against Flooding".
Onyema Udeze presented on "Architecture-of-Things".
Moses Itanola presented on "AI vs HI: The battle for dominance in Nigerian Construction". As part of his presentation, he interacted on-stage with Anna (A Digital Construction Assistant).
Other thought leaders and speakers across the AEC industry in West Africa also presented on various topics covering areas of knowledge across the entire operations of the industry.
Winning champions of the Student Advocacy Program 2019 also converged at the event to participate and learn.