Change is everywhere, many industries are relying on technology to access the untapped and unexplored value potential and the Construction sector is no different.

Productivity has been an area of concern for several countries for a while now and trend in technology is shifting the physical to the digital world, and impacting the way we design, build and maintain built assets.
As an industry faced with challenges in the area of data communication, a robust method of communicating and managing digital information in a super agile way is needed to realise the efficiencies that maximize productivity. Digitization helps us to work efficiently, and it comes in different flavours and abundance of data. It might be from a simple tool for easier communication to the automation of processes, cloud-based systems and software.
The area of focus for this #BIMTalk is to look at how the industry can use BIM and digital trends in construction to communicate, organise and manage the explosion of digital content. Tools like ISO 19650 is an international standard document suitable for any country to tailor her BIM adoption.
The society depends on the construction industry to produce buildings and infrastructure where people live, and maximizing productivity is of topmost priority. Longer hours do not increase productivity but adopting BIM technology does. So then, there is a need for the commitment to upskill and embrace the change needed to operate complex digital tools to tackle low productivity.
Labake Omolara Ekundayo is an Architect and BIM Coordinator at ARCDOX, Ireland and has been working in the industry over the past 15 years. She specialises in assisting project managers and design consultants in the disruptive processes. She has worked with different construction practices on different project sizes, ranging from property to pharmaceuticals, commercial and industrial. As she moves from the traditional architectural design to more of a BIM Coordination and Project management role, she still has her hands in architectural design which is very exciting to her.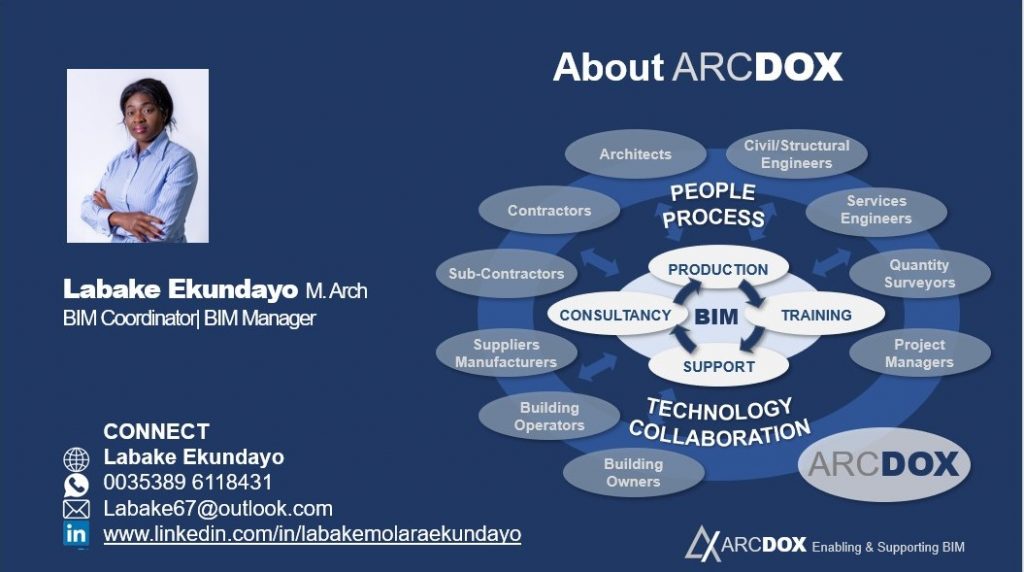 Working alongside project managers and BIM lead to manage disruptive processes, workflows and deliverables have been very exciting. She prides herself in not only to manage information flow across construction project stages but also to train on digital tools and spread awareness on the future of buildings. Given that the explosion of digital content all around us is worth very little on its own, the information requires proper structuring and management to squeeze out the efficiencies and she is certain that the BIM Africa community would like to share in this. She looks forward to a higher level of a managerial role in the information management of our future smart buildings, smart towns and smart cities.
The BIM Africa #BIMTalk (August Edition) is a periodic learning-based virtual program. Join in on Thursday 27th August 2020 at 3 pm GMT. Register to participate in the event