When:
May 18, 2023 – May 19, 2023
all-day
2023-05-18T00:00:00+00:00
2023-05-20T00:00:00+00:00
Where:
Mohamed VI Conference Center
Complexe Administratif et Culturel des Habous
Marrakech
Morocco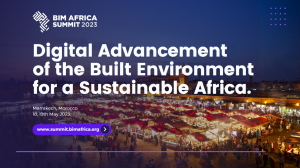 In the last decade, the world has witnessed quantum innovation and digital disruptions to create efficient and meaningful processes. With Industry 4.0 dawning upon us, where does the African Built Industry stand?
The African region has been the centre of innovation in the last years through the inclusion of new ways of building. IoT, FM, Data analytics, and Cloud systems have given construction projects a new outlook on what is practised internationally and adapted to the African level.
African companies have taken an interest in this new transformative wave and are making it a priority in order to continue working and existing in the worldwide market. Building Information Modeling is no longer a future to look forward to, but a present to implement immediately and benefit from.
The BIM Africa Summit is organized to open the discussion regarding the use of BIM and digitalization of the construction industry by inviting many professionals, scholars and key figures of the industry and answer ultimately why and how African countries should adapt and adopt through the lifecycle of the constructions.
3. Third part :
BIM Africa Summit (BAS) 2023 is the first edition of this event. It gathers professionals and scholars from Africa and across the globe. This edition will focus on the Digital Advancement of the Built Environment for a Sustainable Africa. You can't afford to miss out on our robust program – Masterclasses, Project Tours, Exhibitions, Networking, and the Innovation Awards 2023 Dinner.