When:
May 6, 2020 @ 8:00 am – May 8, 2020 @ 5:00 pm
2020-05-06T08:00:00+01:00
2020-05-08T17:00:00+01:00
Contact:
Engr. Kehinde Adeyemi
+2348030788912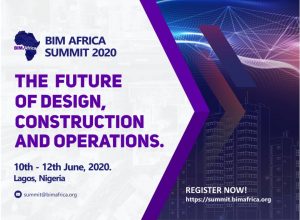 In the last decade, the world has witnessed quantum digital disruptions in a bid to create efficient and meaningful processes. With Industry 4.0 dawning upon us, one may ponder what the future of the Architecture, Engineering and Construction Operations (AECO) Industry holds for the built environment especially in Africa.
Themed "The Future of Design, Construction and Operations", BIM Africa, with footprints in over 25 African countries, is poised to leap into the future with the BIM Africa Summit 2020 (BAS 2020) to be hosted in the heart of Africa's commercial megacity, Lagos, with content carefully crafted for all professionals within the AECO industry who will dare to be Africa's leaders, the influencers of tomorrow, starting today. BAS 2020 is fully programmed for intense engagement of participants over the course of three (3) days with dynamic practical master classes to start off on day one in areas such as BIM deployment in Organizations, BIM execution, Common Data Environments, Virtual and Augmented Reality for AEC visualization, Built Assets management and BIM-based project coordination targeted at Project owners, Educators, Government, Consultants, Contractors, Fabricators, Suppliers and all stakeholders within the industry. Compelling advancement will then be made with mind-boggling presentations on days 2 and 3 by notable speakers and pan African experts on current and futuristic technologies across four (4) thematic areas (see event structure for details).
BAS 2020 participants must brace themselves for terrific and highly disruptive learning that will touch on the very fabrics of the future of work in our industry. To give you snippets of what to expect, there will be discussions and showcases on everything digitally disruptive from concepts in Laser scanning, 3D printing, Robotics, Digital Twinning, Artificial intelligence, Internet of Things to exploring on-demand software and hardware tools to deliver the future today.
Registrations are now open. Determine your participation category – participant, speaker or sponsor and secure your spot to ensure you are not left out as BAS2020 will be seeking a can-do audience ready for unlocking the great potentials of Africa and our highly prized built industry.