When:
January 26, 2023 @ 4:00 pm – 5:00 pm
2023-01-26T16:00:00+01:00
2023-01-26T17:00:00+01:00
Where:
https://bit.ly/preBAS1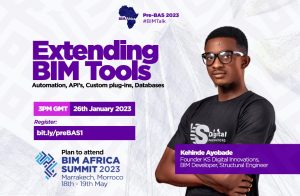 How can construction professionals improve the efficiency and effectiveness of their BIM process? During this pre-BAS 2023 #BIMTalk, Kehinde Ayobade will share ways in which various Building Information Modeling (BIM) softwares can be enhanced through automation, Application Programming Interfaces (APIs), custom plug-ins, and databases.
Automation involves using software to automate repetitive tasks, such as data entry and model updates. APIs allow BIM software to communicate and share data with other software programs. Custom plug-ins are software add-ons that can be used to extend the capabilities of BIM software. Databases are used to store and organize BIM data and can be used to improve data management and collaboration within project teams.
Kehinde is a BIM Developer, Structural Engineer, and the Founder of KS Digital Innovations. Under his start-up, He recently launched a free custom Revit plug-in that helps BIM-savvy professionals automate multiple and unnecessary redundant tasks.
During this pre-BAS 2023 #BIMTalk, Kehinde will highlight a number of trending BIM software and tools currently deployed by various professions in the AEC industry and how project tasks, workflows, design processes and methods can be enhanced through automation, customizing APIs and developing plug-ins. He will touch down with definite insight on how each software can be customized, the available API documentation and references on the web, relevant programming languages to learn, resources on how to kickstart the journey to BIM development, and a quick showcase of how a sample custom plug-in can be built over a selected BIM tool. He will also briefly discuss how databases can be deployed with tools like MySQL to store, manage and manipulate BIM model data for better information management and BIM model quality assurance.
This #BIMTalk session is a part of the virtual learning session preceding the BIM Africa Summit (BAS) 2023, to be held in Marrakech, Morocco, on the 18th and 19th of May, 2023. The BIM Africa #BIMTalk is a periodic learning-based virtual program.