As part of strategies to increase the knowledge of professionals across the African built environment, we are partnering with BIM4TURKEY. BIM4TURKEY represents the centre of transformation for the Turkish construction industry.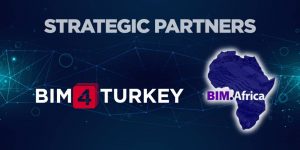 BIM4TURKEY aims to facilitate the BIM integration easier and smoother to the building industry, Higher Education and public companies. The mission of the BIM4TURKEY provides the ground for communication and cooperation for all the AEC parties involved in a design and construction project. BIM4TURKEY helps for capacity building and awareness about BIM in Turkey with regular reports on building standards and accelerates the integration of BIM into the sector.
This partnership with BIM Africa creates the framework for cooperation that will enable each group to benefit from the common activities in their respective strategies. This will further mutual understanding, and, where areas of joint interest identified, close coordination between the Parties. Greater cooperation will help both organizations pursue their respective goals and will help avoid any unnecessary duplication or inconsistency of work and publications.
We are kickstarting our corporate interaction with an exciting community engagement. Watch out for our announcement soon.