As a Sponsor and Lead Facilitator, the BIM Africa leadership team anchored the technical sessions at the Council of Registered Builders of Nigeria (CORBON) 2019 Builder's Congress tagged "BIM Agenda for the Nigerian Construction Industry". The reactions and curiosity for an extension of the knowledge delivery on BIM revealed the need for further engagement.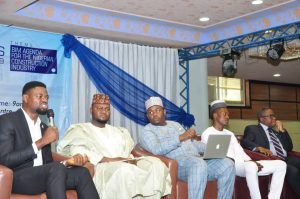 The event started with a hands-on pre-congress workshop on Monday, 25th November 2019 exploring various BIM tools. On Tuesday and Wednesday, the main congress featured various presentations by members of the leadership.
Dr Sa'id Kori, Chairman of the Board of Directors, anchored a session on "Strategies for the adoption of BIM in the Building Sector".
Onyema Udeze and Engr. Abubakar Lawal, members of the Board, presented on "BIM in Action" and also "Appreciation of BIM Applications/Tools", both covering Vertical and Horizontal developments respectively.
Engr Adeyemi Kehinde, a member of the Board, also presented on "Simplifying the BIM process for Efficient Project Delivery".
Moses Itanola, the Executive Director, presented on "BIM Manager's knowledge, skills and practise".
Prof Zulfikar Adamu (Chairman of Advisory Board) and Lot Kaduma (Country Rep, Nigeria), both presented on "The Nigerian BIM Mandate".
As part of the event, they also participated in various panel discussions to evaluate the technical sessions and respond to questions and observations from the audience.