The Executive Director was invited as a resource person at the ongoing 2019 Biennial Conference of the Nigerian Institute of Quantity Surveyors. He shared thoughts to enlighten QS and allied professionals about the exciting potentials and opportunities that abound when they embrace digital disruption as a way of life.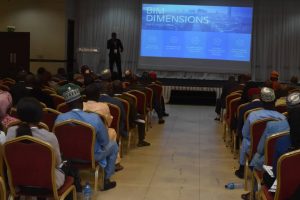 The event, which started on Tuesday, 19th and ends on Saturday 23rd November, 2019, is attended by Quantity Surveyors from across the Country. Sharing knowledge alongside industry leaders and experts, the Executive Director of BIM Africa, Moses Itanola, discussed on Artificial Intelligence and its impact on the Quantity Surveying practise.
Technology is disrupting almost every industry. Many Quantity Surveyors (QS) are feeling threatened by the rapid introduction of technology and automation in the construction industry. Because of the profession's dependence on manual methodologies, the fear of job displacement in the near future is lurking in the heart of many QS. Often, this fear is founded on ignorance about how digital construction is re-shaping the construction landscape and whether the QS has any choice or role to play in the process.
It is perhaps in response to this threat of career displacement threat that widespread resistance and slow-witted adoption of Building Information Modelling (BIM) amongst Quantity Surveyors is evident. Unfortunately, BIM is only just the beginning of the digital revolution of the construction industry. The future of Artificial Intelligence (AI) in construction will arguably be more radical than BIM.
A major consideration for businesses and practices surrounding the growth in the implementation of AI in Construction should be what impact will be made, what new job roles will be created, and how can QSs adapt to working with AI.
He was also presented with a plaque of commendation for presenting at the event and the contributions to the growth of the industry.